Project: Labor Migration and Human Trafficking in Jordan
In an effort to spread awareness on human trafficking, students of the Central European University, School of Public Policy, produced two infographics on the topic. Click on each of the infographics below to view the full content.
Tamkeen Publications
Our partner Tamkeen for legal Aid and Human Rights has published numerous studies and articles on migrant workers in Jordan, about their legal status and their rights and entitlements in the country. During the global outbreak of the novel Corona virus, Tamkeen quickly assessed the situation and published a series called "Under Curfew" that emphasizes the individual legal and socio-economic impacts of COVID-19 on women, workers and migrant workers.
In cooperation with the Jordanian podcast company
SOWT
, the Heinrich-Böll-Stiftung - Palestine and Jordan has produced a podcast titled "Ma Al'amal" (ما العمل) - "What to Do". The first season focuses on migrant workers residing in Jordan, their precarious living and working conditions and the legal complications in cases of abuse. The second season gives further information on the legal provisions enshrined in the National Labor Law. Every episode contains authentic narrations of migrant workers who live amidst Jordanian society.
The journalists behind SOWT are among the first to introduce podcasts to the Arabic speaking public. Based in Jordan, they produce podcasts on many topics of interest to a wider audience in the region.
Curious to hear more about migrant workers in Jordan? Click the links below to listen to their stories in both English and Arabic:
Using Satire to Raise Awareness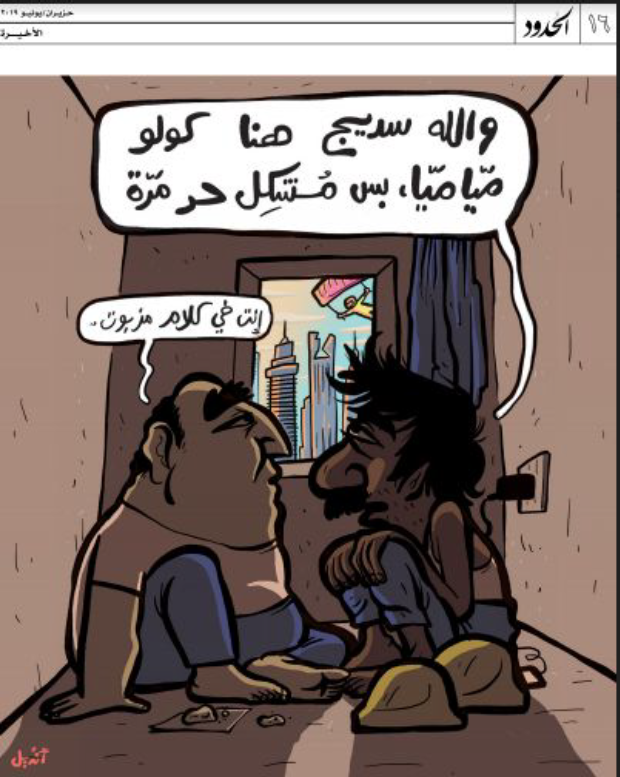 Is there anything to laugh about migrant workers being exploited or mistreated? Surely not, so why does a group of creative writers and caricaturists openly publish satirical articles and caricatures on the fate of migrant workers in Jordan and the region?
When we, hbs Palestine and Jordan, started to promote organizations supporting migrant workers and the elimination of human trafficking, we noticed that both topics have scarcely been tackled in mainstream media. Although scientific research papers and political analyses do regularly cover the crucial issue of migrant workers in the region, public awareness on the topic remains low, mainly because people rarely read these papers. This is why we approached the creative team at Al-Hudood to potentially work on this topic. Following our discussion, their team came up with many great ideas that were ready to come to life. With satirical publications that are for sure much different from typical media content, we hope to sensitize the readers to the concerns of migrant workers, including cases of abuse, and to spark further social discussion on the topic in Jordan and beyond.
Curious? Check the links on the right-hand side to read Al Hudood's satirical articles or click here to take part in their satirical interactive quiz on migrant workers (all content is in Arabic only)
Al-Hudood (Arabic for The Limits or The Borders) is an award-winning satirical Arabic news publication founded July 2013. It uses its satirical news website as its main platform. Additionally, since early 2019 it has been issuing a monthly satirical newspaper. Both contain publications on current affairs in politics and society in Jordan and the region. All articles and caricatures are based on satire and humor.
Mahatat Masr – Radio Program
by Egyptians for Egyptians
In cooperation with hbs, Amman-based Radio al Balad launched their new radio program called Mahatat Masr (Egypt Station). According to the motto "By Egyptians for Egyptians", Egyptian media students produced and narrated the radio program over a period of 8 weeks with each show focusing on Egyptian labor migrants residing in Jordan and their daily struggle to make a living. During the phone-in shows, Egyptian laborers got the possibility to call, tell their stories, share their concerns, or raise questions.
If you have missed the shows of Mahatat Masr on radio, you can watch the broadcasts by clicking on the links below (all content is in Arabic only).
In a collaboration between Heinrich-Böll-Stiftung - Palestine and Jordan and students of the Central European University, School of Public Policy, four short videos were produced which aim to increase awareness about labor migration and the existence of human trafficking in Jordan.
What is Human Trafficking? Through interviews, experts shed light on the definition of this crime and how it can be identified
"Concealed Reality": This short video aims to raise awareness of the precarious living and working conditions of migrant workers residing in Jordan and the violations of their rights
Report of a Trafficked Person: Human Trafficking can affect anyone and anywhere. A Ugandan woman shares her story
Opinion poll: How Known is the meaning of Human Trafficking and its existance in Jordan?
Central European University Team