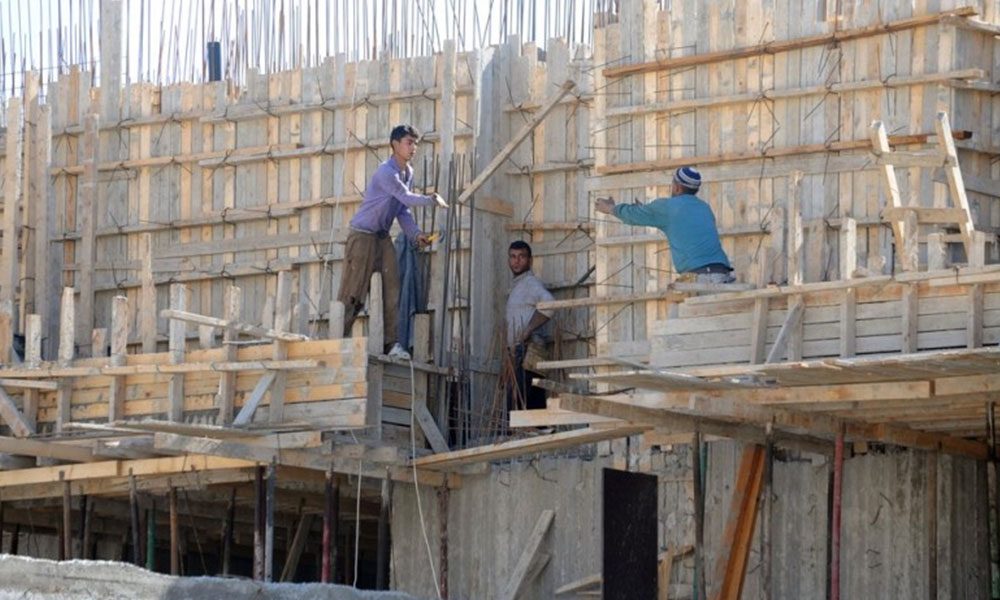 Over the past decades, Jordan has become a regular destination for migrant workers, particularly from Egypt and Southeast Asia. Though Jordanian Labour Laws protect all workers, regardless of their nationality, cases of exploitation and harsh working conditions have been reported. Employers have the power to cancel migrant workers' visas, terminating their legal residency in the country and leaving them to face deportation. The following interview with Jordanian migration expert Shaddin Almasri sheds light on the causes of the persistent difficulties that migrant workers face in Jordan, despite legislation in the recent decade intended to protect worker rights. This wide-ranging interview covers issues such as transformations in the backgrounds of migrant workers coming to Jordan, the legal framework that regulates their residency status, their participation in syndicates and trade unions, how they coped during the pandemic and policy recommendations that would improve their lives.
Daniel Coleman: Since when has Jordan become such an important recipient country for migrant workers?
Shaddin Almasri: Regarding regional movement, we could go back in time and say there has always been circular labour migration between Jordan and its neighbouring countries, particularly Syria. The Emirate of Transjordan is quite a new state, and the region was part of the broader Ottoman Empire until relatively recently, within which there has always been some level of movement. If we are talking about the modern state, then the beginning of large-scale outward migration, mainly to the Gulf States, and inward migration, mostly from other Arab states, specifically Egypt, is in the 1970s and coincided with the oil boom.
Unlike the Gulf States, where there has been enormous investment in domestic economies and consequently a higher demand for foreign labour, Jordan has never been a particularly rich state. This being the case, what has attracted migrant workers to Jordan?
This question is the subject of much debate, but if we contextualize south-south migration, most of the countries that migrants travel to and from are not very wealthy, so movement is not necessarily low income to high income. It consists largely of people filling gaps in each other's economies. In the case of Jordan, many citizens left to work in the Gulf due to the booming economies there. One theory suggests that inward migration to Jordan increased to reduce the labour shortages Jordan suffered as a result, particularly in the manufacturing sector. In addition, Jordanian industry suffers from excessive costs, with products that were not competitive internationally. Consequently, Jordanian industry sought to employ migrant workers, who received lower wages than their Jordanian counterparts did.
How has the demographic background and the gender background of migrants to Jordan evolved during the last half-century?
There has been an increased feminization of the migrant worker community in Jordan, largely in response to two factors. These are the expansion of the garment sector, especially since the creation of the Qualified Industrial Zones (QIZ)[1] in 1997 and then domestic workers. Is there female migration to Jordan on a large scale? Speaking realistically, statistics on the number of migrant workers provided by the Ministry of Labour are only an estimate, due to high levels of informality amongst migrant workers, but they function as a good rule of thumb. They show that migrant workers are still overwhelmingly male, except for the two sectors I mentioned previously.
Migration from Asia has increased because of labour agreements with Asian countries, such as the Philippines or Sri Lanka. Now, workers in the QIZs tend to be female and Asian. Until the conclusion of these agreements, labour migration to Jordan was predominantly regional rather than international.
 Are migrant workers recruited before travelling to Jordan or after their arrival?
Normally, recruitment occurs before departure. With domestic work, there are partner offices and recruitment agencies in the sender countries. The agencies put together individual portfolios for applicants, which are then shown to Jordanian families seeking a domestic worker. If a domestic worker is chosen, they are flown to Jordan. Finding a job after arriving in Jordan is challenging, especially if you are from a nationality that regularly pursues work in Jordan. For example, Egyptian men can enter Jordan on a tourist visa due to a reciprocal agreement. Despite this, Egyptian men are often subjected to questioning upon entry and exit. For Asian nationalities without reciprocal visa agreements, it would be even harder. Even if they obtained a tourist visa, they might have to return to their home countries to obtain a work permit from a recruitment agency.
You mentioned a discrepancy between the figures from the Ministry of Labour and actual numbers of migrant workers in Jordan. Do migrant workers arrive legally and later become undocumented due to a change in their work circumstances?
Yes, to enter Jordan undocumented is next to impossible. The border is extremely secure and was only opened to allow in Syrian refugees. It is usually through a permit cancellation or overstaying a visa that a migrant worker becomes undocumented.
Would it be correct to describe the Jordanian system for migrants as a Kafala[2] system?
Despite no mention of Kafala in Jordanian law, the legal system governing migrant workers is to all intents and purposes a Kafala system. Migrant workers have a sponsor who controls entry and exit. It is a common misconception that employers can withhold your passport, but technically every migrant worker requires a visa cancellation approval from an employer, without which they cannot leave the country. In practice though, western and higher income individuals can exit without it.
In addition, your autonomy to enter and exit the country is severely curtailed as the residency permits of migrant workers are tied to their employer, who can cancel their permit without any consultation, depriving migrant workers at one stroke of their residency and work permits. This creates an extremely harmful power imbalance between employer and employee, which especially affects migrant workers in lower income sectors. It allows employers to control the movement of domestic workers, while in the agricultural sector, a migrant worker looking to change jobs may be asked for a bribe by their current employer to facilitate the process of changing jobs. Fundamentally, workers suffer from a lack of bargaining power.
What sort of protections are enshrined in Jordanian law for migrant workers that are meant to prevent such abuses? Does Jordanian labour law treat migrant workers and Jordanian workers separately?
There are several important aspects to this question. We can start with the minimum wage, which is differentiated by nationality and by sector. There is a Jordanian minimum wage and a foreign minimum wage. For example, the garment sector has a differentiated national and foreign wage.
In 2008, the Labour Code was amended with an article stipulating that there would be a separate code for agricultural and domestic workers, two fields in which migrant workers are overrepresented. In 2011, a separate code for domestic workers was issued, but the agricultural code was only introduced in 2021. Beforehand the sector was extremely lightly regulated. The assumption was that there was no legislation pertaining to the sector, despite assertions by legal analysts from organizations such as Tamkeen that in the absence of a specific code, the 2008 code should be applied. In 2021, the combination of greater focus on the agricultural sector due to its role in maintaining food supply during the pandemic and the increased interest of donors amidst fears of climate change-induced food scarcity in Jordan helped the Agricultural Workers' Union to push successfully for the introduction of the labour code.
To what extent have migrant workers been able to join Jordanian unions or form their own unions and worker associations?
Migrant workers can join trade unions, specifically in the textile and garment sector, but they cannot establish them. Like the agricultural sector, the garment sector has recently received much attention. It participated in the "Better Work Jordan" scheme run by the ILO, which sought to improve working conditions. I cannot imagine that there would be similar activity in a sector like construction, a much-neglected sector. Here, labourers would be largely Syrian or Egyptian, in addition to minority refugee groups such as Sudanese and Somali. Jordan is not your typical refugee-hosting country. There is no specific refugee law, only references to refugees, such as the 1973 Law prohibiting the refoulement of political refugees. Jordan is not a signatory to the 1951 UN refugee convention or the 1967 UN Protocol Relating to the Status of Refugees.
You mentioned the role of agricultural workers during the pandemic. Did migrant workers have access to the vaccination program of the Jordanian government?
As far as vaccinations are concerned, in principle everyone had access. The authorities encouraged everyone, including migrant workers, to get vaccinated, irrespective of their residency status. Although the Jordanian government introduced laws mandating vaccination or testing to enter workplaces, these rules were almost impossible to enforce in houses (Domestic Workers), lightly regulated factories and remote agricultural sites.
Did Jordanian social security programs implemented in response to the pandemic also assist migrant workers?
Jordanian social security programs were expanded, but mostly for those who were already eligible. About 90% of migrant workers are not on social security. A World Bank diagnostic in 2019 estimated informality rates of 85-90% amongst migrant workers. Direct cash transfers by the Government of Jordan only benefited Jordanians. There was a program to fast track the formalization of informal companies but was mostly accessible only to Jordanians. As so many migrant workers were not registered in governmental programs, they were de facto excluded. If you ask individual migrant workers, very often they will not want to register with social security, because it requires a monthly contribution, which many do not want to pay. It is the same with pensions. Migrant workers struggling to get by everyday do not have the privilege of thinking of their financial situation 10 years from now.
What policy recommendations would you suggest to both the Jordanian government and the recruitment agencies to improve the living and working conditions of migrant workers in Jordan?
Firstly, it is vital to address the securitized Jordanian approach to migrant workers. The number of labour deportations in 2017 was around 10,000. This penalization contributes to the power imbalance between migrant workers and the employers who can cancel their legal residency at any time. Therefore, I would prioritize policies like fast-tracking formalization structures, while minimizing security-based approaches and detention for informal work.
The instructions issued for the agricultural and domestic work sectors are almost impossible to enforce under current circumstances. There are only several hundred labour inspectors and thousands of worksites. We know there are countless labour violations, so there is a complete mismatch between the needs of the sector and the resources available to protect workers. There needs to be more inspectors working on behalf of workers, more interactions between inspectors and employees and it needs to be made clear that the inspectors are there to support the employees and not the employers. While already weak, this process is now even more at risk given the recently announced Public Sector Modernization Plan. This strategy proposes the dissolution of the Ministry of Labour entirely in favour of distributing its functions across each of the Ministries of Interior, Education, and Industry & Trade. Civil society responded with an outcry and strong advocacy against this move as it compromises labour market regulation and employee protections, even more than it already has been. Labour rights have been unfortunately de-prioritized for years even with a Labour Ministry in place. Whatever the outcome of the public sector modernization process, it is imperative that decent work, especially for migrants, takes precedence in the coming years.
Furthermore, the delinking of work and residency permits is also essential. A worker should be allowed to leave their worksite for safety reasons without worrying about losing their residency permit. The right to organize and found unions is critical. The government has not approved the foundation of a single new union since 1976. Agriculture is not even on the government's list of sectors, so the Agricultural Workers' Union remains unrecognized. In recent years, collective bargaining and freedom of association have been greatly restricted in Jordan.
Finally, the creation of a unified minimum wage without any distinctions between foreign and local workers is of crucial importance. Similarly, there is a need for a unified labour law, rather than different labour laws governing different labour sectors.
---
[1] The Qualifying Industrial Zone (QIZ) concept was introduced by the United States in 1996 which authorized duty-free entry into the US for industrial products originating in Jordan and manufactured jointly with Israel, in compliance with the international rules of origin. 
[2] The "Kafala" system is a system that lays down the obligations and protections in the treatment of foreign "guests." Kafala means "to guarantee" or "to take care of" in Arabic. Under the system, a migrant worker's immigration status is legally bound to an employer or sponsor ("Kafeel") during the contract period. The migrant worker cannot enter the country, transfer employment, nor leave the country for any reason without first obtaining explicit permission form the Kafeel.