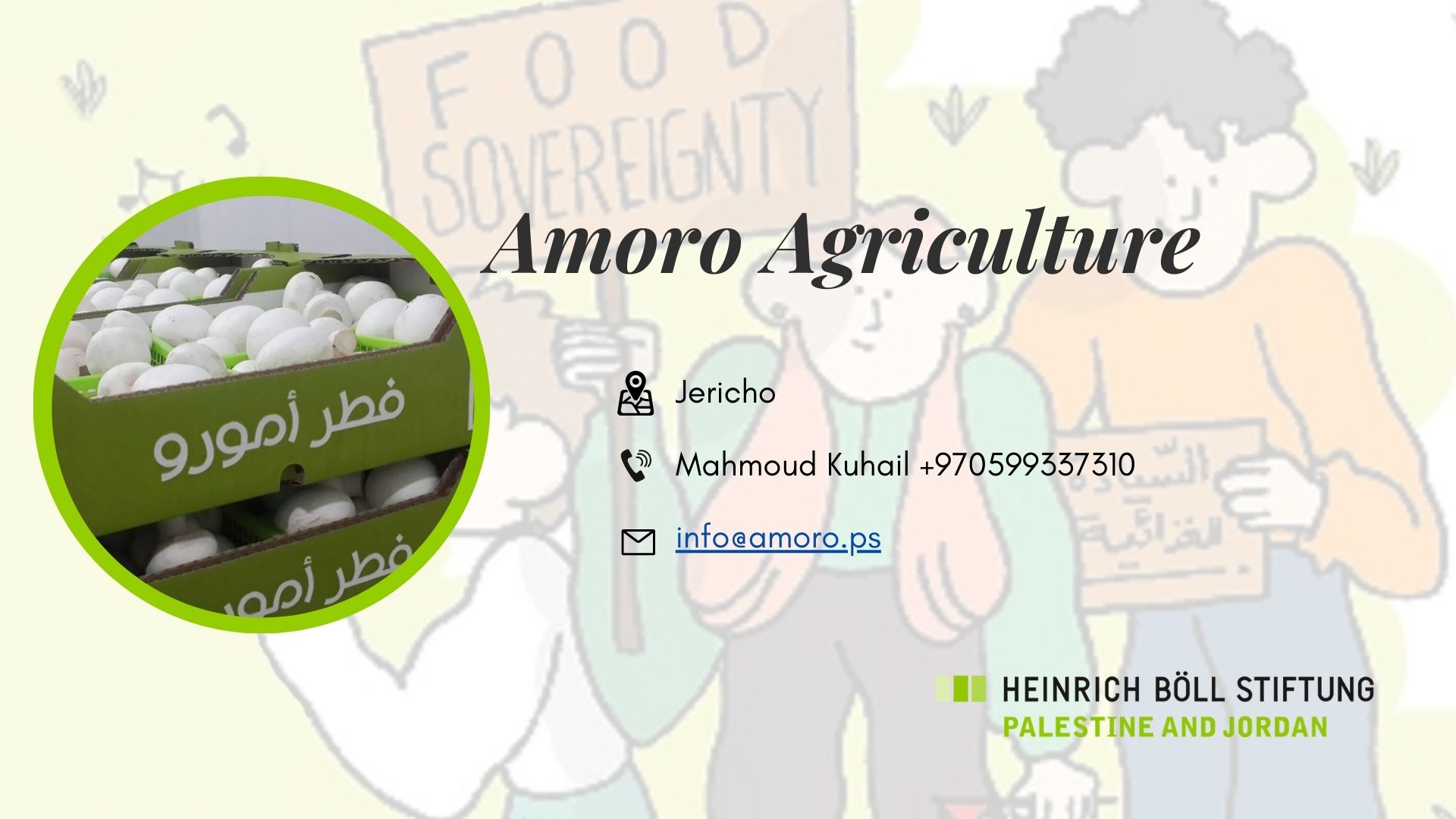 While the main goal for the food section in this guide is showcasing farmers who are maintaining the traditional way of farming, it is also important to shed light on local agricultural projects committed to finding alternatives to international and Israeli products that flood the Palestinian market and at the same time meeting the needs of the modern day consumers.
   "It all started during a barbeque gathering when we realized the absence of mushroom production facilities in Palestine. Ourdream started in May 2013 and ever since, the quest for establishing the first mushroom farm in Palestine has ensued."
   A group of four young, enthusiastic and energetic friends embarked on this journey and worked relentlessly to learn all about mushroom farming using innovative methods and state of the art practices, establishing a one-of-a-kind facility to produce white button mushrooms. Amoro Agriculture aims not only to be recognized as a leader in the agribusiness sector in Palestine, but also aims to contribute to a local economy that is self-reliant, striving for self-sufficiency in mushroom production and reducing reliance on Israeli products, especially the ones in high demand and with little to no local availability.
   Although wild mushrooms grow naturally in the mountains of Palestine, and is considered a seasonal delicacy, it was not until recently that white button mushrooms became part of the Palestinian cuisine, when international dishes became more and more embedded in the eating habits of Palestinians, especially in urban areas. Therefore, white button mushrooms became increasingly in demand. Since cultivating mushrooms requires specific conditions and a highly controlled environment, it has not been possible for the ordinary farmer to grow them. Thus, most of the mushroom supply comes from the Israeli side. The founders of Amoro Agriculture dedicated all their efforts, time, and resources to researching and applying the most suitable methods of mushroom cultivation, striving to provide locally produced chemical-free mushrooms.
   Aiming to have locally provided production inputs, the founders of Amoro contacted local composting facilities requesting a type of compost specific to the production of white button mushroom (Phase III Compost).However, the composting facilities were not able to produce this type of compost, as it requires specific equipment they do not possess and conditions that are difficult to emulate. Another option was to establish a specialized compost facility, but after researching, it turned out that establishing such a facility would be more expensive than the mushroom growing facility itself and would only be feasible when more mushroom growing farms are established. Until this becomes possible, Amoro decided to import the specific type of compost they need from abroad.
   After more than a year of research, preparation, and building the mushroom facility, Amoro celebrated planting the first batch of mushrooms on the last day of October 2014. The Palestinian grown mushroom proved to be of the highest quality in the market, and demand on it exceeded the production capacity, nonetheless it was a tremendous success. Amoro employed 16 women and 8 men from the Jericho area, supporting 24 families.
   Unfortunately, the widespread success of the Palestinian grown mushrooms and its competition with the Israeli grown mushrooms in the Palestinian market had its dire consequences. As one of the founders stated, "our reality of living under occupation hit home". As Palestinian borders are under Israeli control, all shipments to Palestine must go through border and documentary compliance procedures by the Israeli side, which entails payment of customs duties and fees related to any delay resulting from these procedures. In 2018, the Israeli side delayed the entry of two compost containers for 90 days at Ashdod Sea Port, which resulted in a major unexpected loss of around $48,000 that the founders have not been able to recover from until now. This was the last of a series of delays and fees by Israeli authorities that have drained them financially. According to the founders, the delay was unjustified, as the same type of compost received entry approvals for Israeli producers. So, these complications and fines were deliberate and targeted.
   Production has now been put on hold until the financial crisis is resolved. Although Amoro received some donations through crowdfunding and fundraising campaigns from friends and supporters -which helped recover some of the raw materials- it still needs substantial support. As a mitigating measure for the Israeli obstruction of their work, Amoro founders hope to find the financial means to purchase compost storage units (fridges) to ensure the continuity of production.
   Amoro team welcomes anyone who is interested to know more about the farm and explore ways to support.
____________________________________________________
Product Availability: Year-round.
Product Selling Points: Upon order.