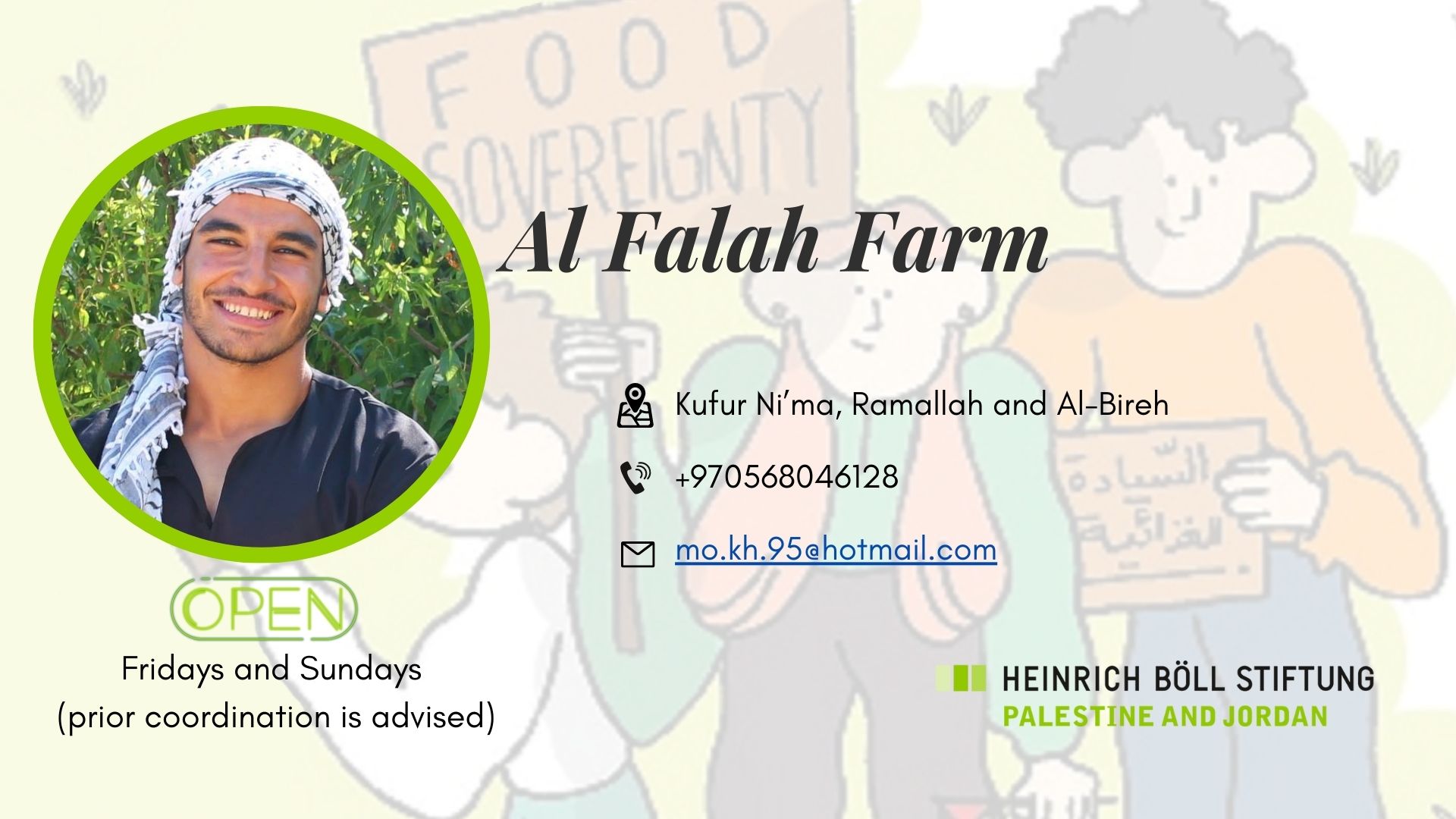 Mohammad Khweira is an inspiring young man who started farming at the age of 23 in parallel to his work as a yoga and Dabkeh (folkloric dance) instructor. He inherited the passion for farming and his healthy lifestyle from his mother who embodies the rich agricultural knowledge and values that Palestinian women farmers practiced for generations. This influenced him deeply and urged him to delve deeper into researching the role of rural women in the agricultural sector in Palestine during his university studies.
   He began his journey with farming in his home garden by helping his mother grow vegetables for their own consumption and giving away the surplus to their neighbours. One day, he stumbled upon a course on agroecology in his village. At that moment, his passion for clean farming was ignited and it all became clear to him;   farming for freedom and health is the path he wanted to pursue.
   Mohammad acquired a one-dunum farm and started producing seasonal vegetables using agro-ecological methods. To his surprise, in less than six months of establishing the farm, the demand on his clean produce were already higher than the supply. For Mohammad, this was a sign that consumers' preference is still, to a great deal, in favour of local 'Baladi' production, for reasons related to their high quality, distinctive taste, health benefits, and longer shelf life. He relies on marketing his seasonal produce directly to buyers in his village, and in Ramallah through orders on his Facebook page and via phone.
   The farm's produce includes cucumbers, tomatoes, lettuce, eggplants, legumes and leafy greens, according to the season. Mohammad and his mother make sure no leftovers are thrown away from the produce. For example, they use the smaller unsold cucumbers to make delicious pickles. The same goes for eggplants, which they use to make the best makdous (pickled stuffed eggplant in olive oil). They will also start producing baladi cheese and labaneh (soft cheese made from strained yoghurt) by the time this guide is published.
   Make sure you pay the farm a visit. You will be welcomed with the sweetest smile and the warmest heart.
____________________________________________________
Product Availability: Year-round seasonal produce.
Product Selling Points: The farm and upon order.
Volunteering Opportunities: Welcomes volunteers during the harvest season.
Other Services: Organized tours of the farm and village.