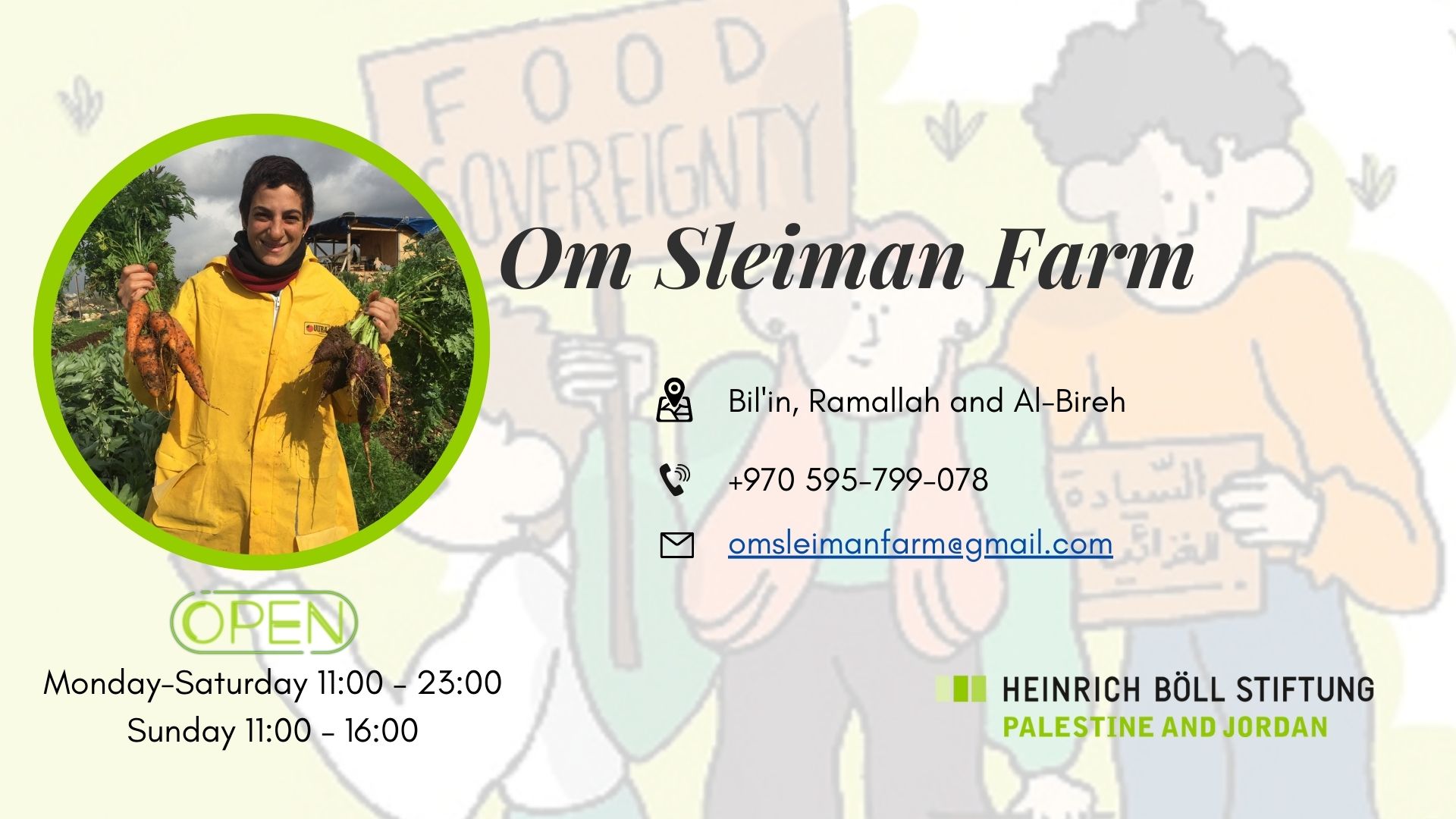 Om Sleiman Farm is one of the farms that shared with us its story with its own words:
   The early days of our journey helped mould the farm the way it is today. The farm was born at the intersection of 3 Palestinian stories: A story of displacement that brought Mohammed Abujayyab – one of the founders – to a journey of rediscovery of his Fallahin roots after growing up in a refugee camp in Gaza Strip, and later immigrating to the US. Mohammed met Muhab Al-Alami, a Jerusalemite who runs a hostel in Ramallah, and provides political tours in places like Bil'in village. This introduced them to Abu Alaa Mansour, who saw the importance of offering land access to this effort. He offered at least a 5 year access to his 17 Dunums land, which provided a kick off moment to the farm early 2016. Later on, Yara Duwani joined the farm as a farm manager.
   The work in Om Sleiman Farm intended to converge economic, social, and ecologic visions, which resulted in farming work that is closer to the Fallahi spirit. This convergence to us was from the start a political effort, which goes beyond the fact that the farm is on Area C lands and being at direct contact with the Israeli Army. The farm to us is a declaration of agency and imagination, and a bridge we want to build between the village and the city. Working together, as folks coming from Jerusalem, Gaza, and the West Bank created a microcosm of Palestine as we see and dream of it to be.
   The farm creates a social space for its shareholders where they could see their cooperation with the farmer come to fruition. By selling directly to consumers, we bypass a commercial comprador class that puts its profits ahead of farmers getting a fair share. This creates a sustainable economic relationship that guarantees our continuity on the basis of mutual trust. Our work also seeks to restore the ecological environment as part of Palestinian society by respecting and preserving it. Thus, our vision is in essence based on the complementarity of all these dimensions.
   This vision comes together in what otherwise is called a Community Supported Agriculture (CSA). A community of consumers comes together to buy the season before it starts, where they receive in return weekly shares of the harvest. This economic system gave us the ability to solve chronic marketing and planning dilemmas, and provided enough capital for us to kick off our seasonal work. Through this system, the consumer was able to trust us as farmers and our seasonal and heirloom practices. We encourage our shareholders to come visit us anytime to know and feel that they are an integral part of our production, not mere consumers.
   We follow a multiplicity of methods that go beyond organic farming, emphasizing on integration, regeneration, seasonality, and ecological context. We use our surroundings as a guideline and work to steward it not to control it.
   Our farm today provides shares to 25 families (we have gone up to 30 in the past) by actively cultivating 2+ dunums. Our team is Mohammed, Muhab, and Yara, in addition to a number of seasonal and part time workers.
   In addition to direct seasonal production, we have adopted a model of popular education to duplicate our work. We have worked on training farmers and activists on topics ranging from food justice to food production. To us, popular education is a tool to turn passive and technical knowledge into a political tool for change. We share the space and our experience in Community Supported Agriculture, Natural Building techniques, and Agroecology. Our mission is to go beyond knowledge to active support on the ground, providing seeds and seedlings, consulting, designing, and market sharing. We care to see other farmers adopt these methods in the road to a self-sustainable community.
   In our quest for self-sufficiency, a difficult and long journey in the current consumerist and capitalist era, we pay high attention to preserving and propagating baladi seeds. Currently, we have baladi seeds from different regions such as Deir Ballut, Kira, Bil'in, and Palestine Heirloom Seed Library.
____________________________________________
Product Selling Points: Directly to members upon subscription.
Volunteering Opportunities:  Om Sleiman Farm welcomes volunteers throughout the year, especially in the early summer and winter seasons, as work on the field increases. Areas: Seed germination, irrigation, weeding, preparation of raised beds, crop cultivation, seed collection and saving, in addition to assisting in other projects, such as natural building, medicinal herb production, fermentation and pickling, greening and forestation, and carrying out research on plants.
Other Services: Political tours are offered where visitors are introduced to the political situation in Area C, and the challenges facing agriculture and farmers in Palestine. They also provide agricultural tours that cover concepts such as community-supported agriculture (CSA), agroecology, among others and explain their practical application.