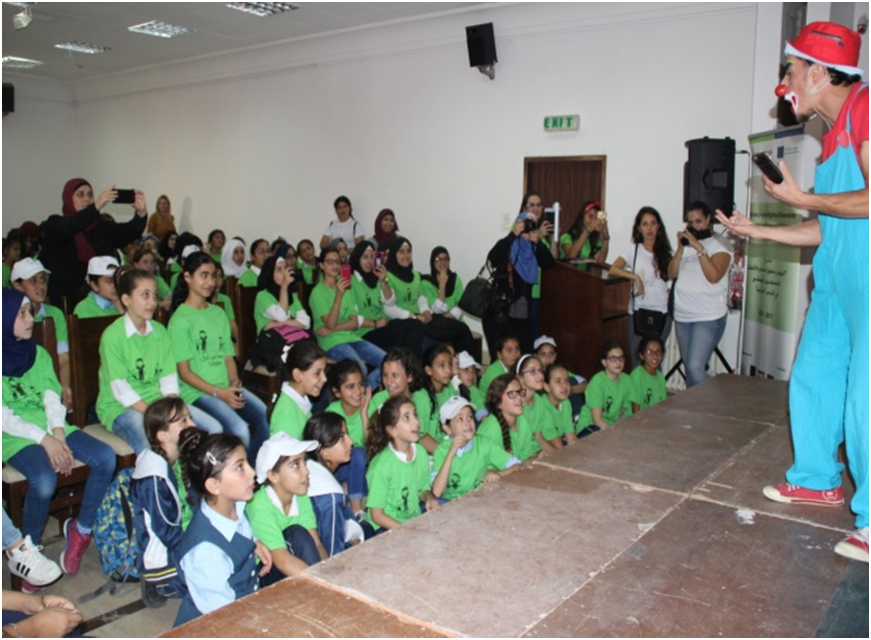 The Open Day in Jerusalem on 19 October 2016
The project "Advancing the Rights of Vulnerable Women and Children in East Jerusalem" opened its doors to the public on Wednesday the 19th of October at the Young Women's Christian Association (YWCA) in East Jerusalem. Our project partners Sawa—All the Women Together Today and Tomorrow, War Child Holland (WCH), Right to Play (RTP), Arab Center for Agricultural Development (ACAD), and ArtLab (ARTLAB) displayed their work to hundreds of attending children and women.
The day was packed with activities. Dr. Bettina Marx, Director of Heinrich Böll Stiftung - Palestine & Jordan Office, introduced the event and welcomed all participants. The EU representative, Mr. Ralph Tarraf, and the Palestinian Governor of Jerusalem, Mr. Adnan Al Husseini also welcomed the audience warmly.
The first part of the Open Day included theatre performances by the youth of the al-Razi Cultural and Social Association, screening of the project video, videos by the ARTLAB students and puppet shows by Spafford Children Center. The second part was filled with dancing performances by the Old City Youth Association, the clowns Semsem and Zataar and performances by the amazing singer Mohammed Faiez al-Aa'war from Nibras al-Quds Society for Individuals with Special Needs. In addition, there were Dabkeh performances by girls from the al-Thori Women Centre and a Scout performance by children from the al-Bustan Centre. Right to Play organized outdoor games for the children during the whole day. All partners distributed gifts to children and reading material to adults. Spontaneously towards the end of the Open Day some young boys started playing the Tabla (Arabic drums) and created a watching crowd. Palestine TV was also present at the event and interviewed various participants.
Furthermore, women who are beneficiaries of our partners and of the seven CBOs that receive small grants under the EU Project were displaying their wonderful hand made products: jewelry, fashion, knitwear, food and plants and much more. Beautiful items and tasty cakes were sold to the audience.
The day was very well attended and packed with children and women. We also had 28 volunteers from al-Razi Association helping us to organize and coordinate the event.
The event reinforces the need to further invest into children and women in the vulnerable communities of East Jerusalem who are consistently neglected by the Israeli state.
We would like to thank all our partners and everyone who participated on this day.