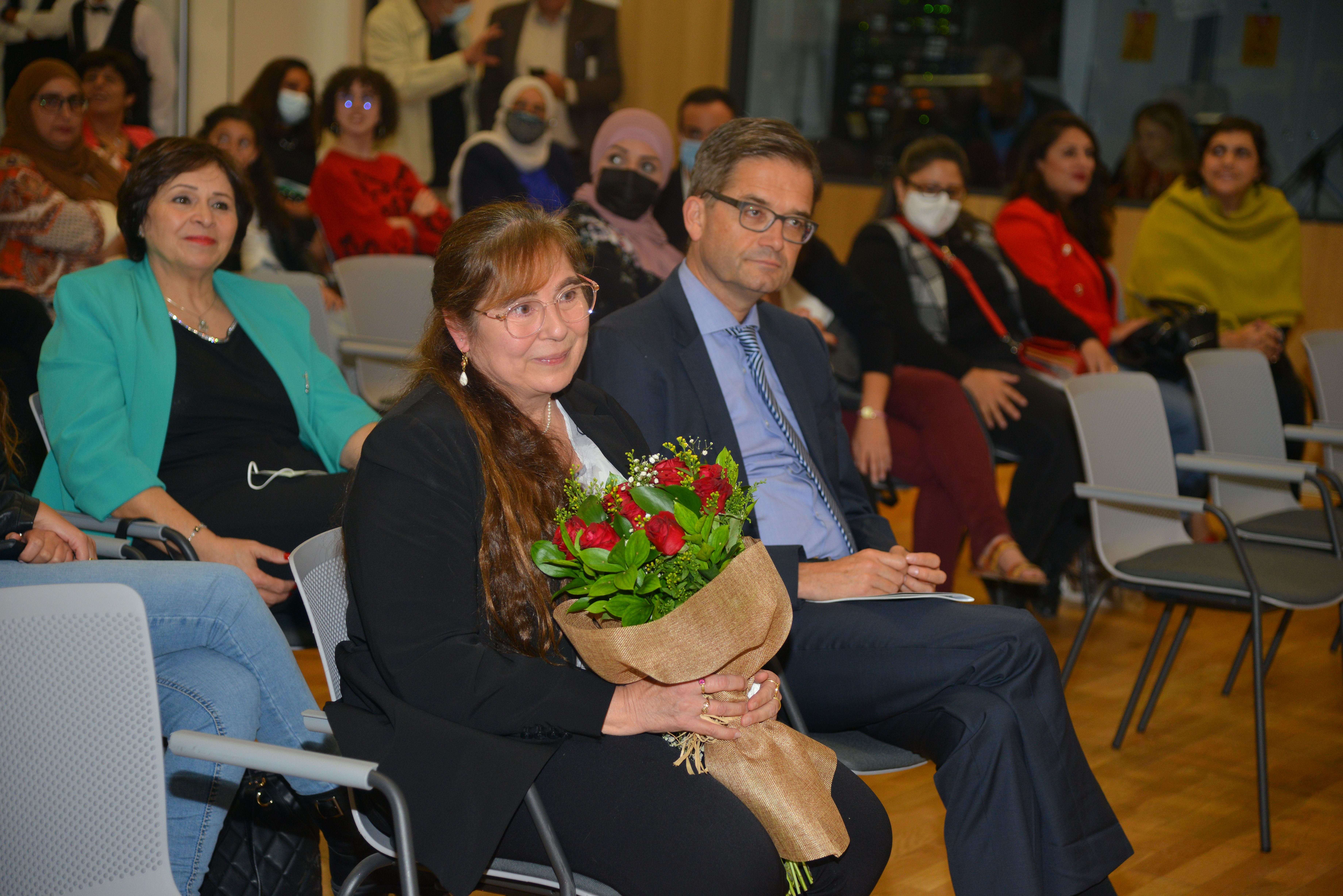 Ramallah, Palestine, October 20th 2021, the Heinrich Böll Foundation- Palestine and Jordan (hbs) held a reception and photo exhibition "Past Tense" on the occasion of the farewell of its outgoing Director, Dr. Bettina Marx, and welcoming of its incoming Director, Ms. Dorthe Siegmund. The event that took place at the A.M Qattan Foundation in Ramallah was attended by partners, colleagues and friends of the Heinrich Böll Foundation, both in person and over video conference.
The event began with welcoming words from his Excellency Mr. Oliver Owcza, Head of Mission at the Representative Office of the Federal Republic of Germany. Mr. Owcza thanked Dr. Bettina for six years of successful leadership, accomplishments in advocacy for the defense of Human Rights and democracy in Palestine working under difficult circumstances, and of building bridges between Palestine and Germany.
Mr. Ala Jaradat, the Director of Institute for Jerusalem Studies (IJS), spoke of the strategic partnership with the Heinrich Böll Foundation and the continuity that marked the relationship among the two organizations. Mr. Jaradat thanked Dr. Bettina Marx for all her efforts and mentioned the many activities carried out and publications produced over the years. He explained how the "Jerusalem Quarterly" (JQ) in particular, now in its 86th Issue, has become globally renowned and the leading journal on the past, present, and future of Jerusalem, documenting the status of the city and its predicaments.
Speaking over video conference, Dr. Bente Scheller, Head of Middle East and North Africa Division at the Heinrich Böll Foundation - Berlin, praised Dr. Bettina's contributions to accomplishments of the Palestine and Jordan office and her insight into the political context in Palestine and her drive to continue the work even during difficult times. She also welcomed incoming director Ms. Dorthe Siegmund and wished her luck in her new post.
This was followed by video messages from Joachim Paul and Christian Sterzing, both former office directors of the Heinrich Böll Foundation- Palestine and Jordan. Team members and representative of partner organizations paid tribute to Dr. Marx, giving their farewell, recalling experiences with her over the years and praising her professionalism, kindness and relentless support of Palestinian human rights.
In an emotional speech, Dr. Bettina Marx, director of the hbs office in Ramallah since September 2015, expressed her gratitude to all the attendees and appreciation for their kind words. She explained how difficult it is for her to leave the Foundation and her second home, Palestine, but promised that she will always be an advocate for Palestinian rights wherever she goes. Dr. Marx will return to her career as a journalist with Deutsche Welle (DW). Before taking up the post of director of hbs in Ramallah, she had worked as a political journalist for over 25 years. During this time, she had served as the Israel/Palestine correspondent for the German Public Radio Corporation, ARD.
Hbs' incoming Director, Mrs. Dorthe Siegmund, who spoke over video conference, expressed her eagerness to join the Foundation and to meet and work with its partners upon her arrival to Palestine. Mrs. Siegmund holds a Master degree in political science from the University of Munich with a special interest in international relations and the Middle East. She is specialized in peace and conflict studies and as part of her doctoral thesis she underwent research stays in Palestine and Israel. Mrs. Siegmund had previously worked for two German church agencies for development cooperation as a consultant for international humanitarian law and human rights with a special focus on the Middle East.
Mr. Jack Persekian spoke about his exhibition titled "Past Tense", which was at display at the event and included a selection of old and new photographs of Jerusalem and its surrounding landscape. It was presented in a form that invited guests to discuss Jerusalem's past, present and future through comparing views of Jerusalem, photographed at different times, and align the physical transformations with the events that took place in the city during the last century. The event program also included a musical performance of Palestinian and Arab folkloric melodies by the Jerusalemite group Mazaj Ensemble.