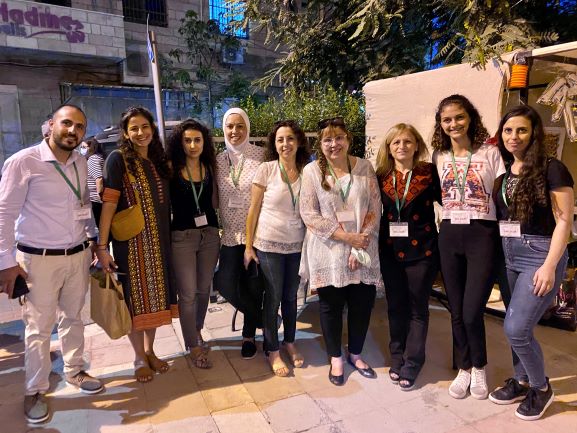 Ramallah, Palestine, 06, Sep 2021 Heinrich Böll Foundation- Palestine & Jordan (hbs) held a launch event on September 1st, at the Ottoman Court in Ramallah, celebration the release of its publication "Conscious Choices: A Guide to Ethical Shopping in Palestine - Edition II".The event included a variety of activities including a market consisting of local producer booths, a musical performance, discussion sessions and art awareness raising activities for children centered around conscious and ethical shopping choices.
At the entrance of the Ottoman Court, visitors were greeted by hbs team and volunteers, were handed a copy of the publication and gifted environmentally friendly shopping bags among other items. There, 13 local handicrafts producers from different areas displayed their beautiful products. The Jerusalem-based Mazaj Ensemble brightened the atmosphere with instrumental performances of oriental and Palestinian music.
Walking through the Ottoman Court, visitors crossed over to the other side of the building, where booths for food and drinks producers were set up. Also, two discussion sessions and an art activity for children took place.
The event was kicked off with welcoming words from Nidal Atallah, the Coordinator of the Environmental Justice Program, who also explained the idea behind the project and the contents of the publication. Hbs' Director, Dr. Bettina Marx, greeted the attendees and thanked the authors of the Guidebook and project team for their efforts over the past two years to make this special publication a reality. She emphasized that "this publication is not only a guidebook for your ethical shopping. It is also an introduction into Palestinian history and culture. It celebrates Palestinian skills, craftsmanship and creativity and thereby Palestinian resilience in the face of hardship and violence." We were also honored by the participation of his Excellency Mr. Oliver Owcza, the Head of Mission at the Representative Office of the Federal Republic of Germany. In his speech, Mr. Owcza expressed his gratitude and delight to attend this event as one of the first since his appointment in Palestine. He also stressed the importance of local production and Palestinians achieving self-determination.
Ms. Lina Isma'il, who co-authored the guidebook with Dr. Muna Dajani, spoke on both of their behalf expressing their joy at the release of the Conscious Choices Guidebook. Isma'il explained the unique features and additions to the second edition of the guidebook. She explained that "this guide offers some guidance during the first steps of becoming an ethical consumer, shopping more consciously, and making informed decisions regarding eating and living habits." She added that "it [the guidebook] serves as an attempt to document a grassroots movement of change taking place across generations and forums to reclaim our cultural heritage and empower authentic models for resilience and steadfastness." She also thanked the local producers and community initiatives, the heroes and heroines who made this project worthwhile. Finally, she thanked hbs team for their outstanding support, partnership and cooperation in the making of this publication.
This was followed by two panel discussion sessions on "Food Sovereignty in Palestine from small farms to a growing movement" and "Past meets present: traditional crafts between extinction and revival efforts", during which both panelists and attendees had a lively discussion.
This guidebook elaborates on individuals' purchasing power. It aims to help consumers find the products they search for and at the same time strengthen the existing networks. It explains how shopping more ethically can have a ripple effect, supporting the farmers to continue to grow their food in a clean and sustainable manner, and the craftspeople to invest in maintaining the high quality of their products. Help build a "resistance economy" where Palestinians will be able to achieve a strong localized economy, food sovereignty, and resource independence.
The Conscious Choices Guidebook, was recently named the Book of the Month in This Week in Palestine.,. It contends over 130 producer profiles, opinion pieces, and beautiful illustrations. Guiding more readers to become conscious buyers and making better-informed decisions regarding eating and living habits, attempting to document a grassroots movement to reclaim Palestinian cultural heritage, encourage environmental and sustainable practices, and empower authentic models for resilience and steadfastness.
You may obtain a hardcopy of the guidebook by contacting HBS' office (ps-info@ps.boell.org, Tel: 02-2961121) or visit our online dossier for the guidebook on the following link: 
https://ps.boell.org/en/conscious-choices-guide-ethical-shopping-palestine