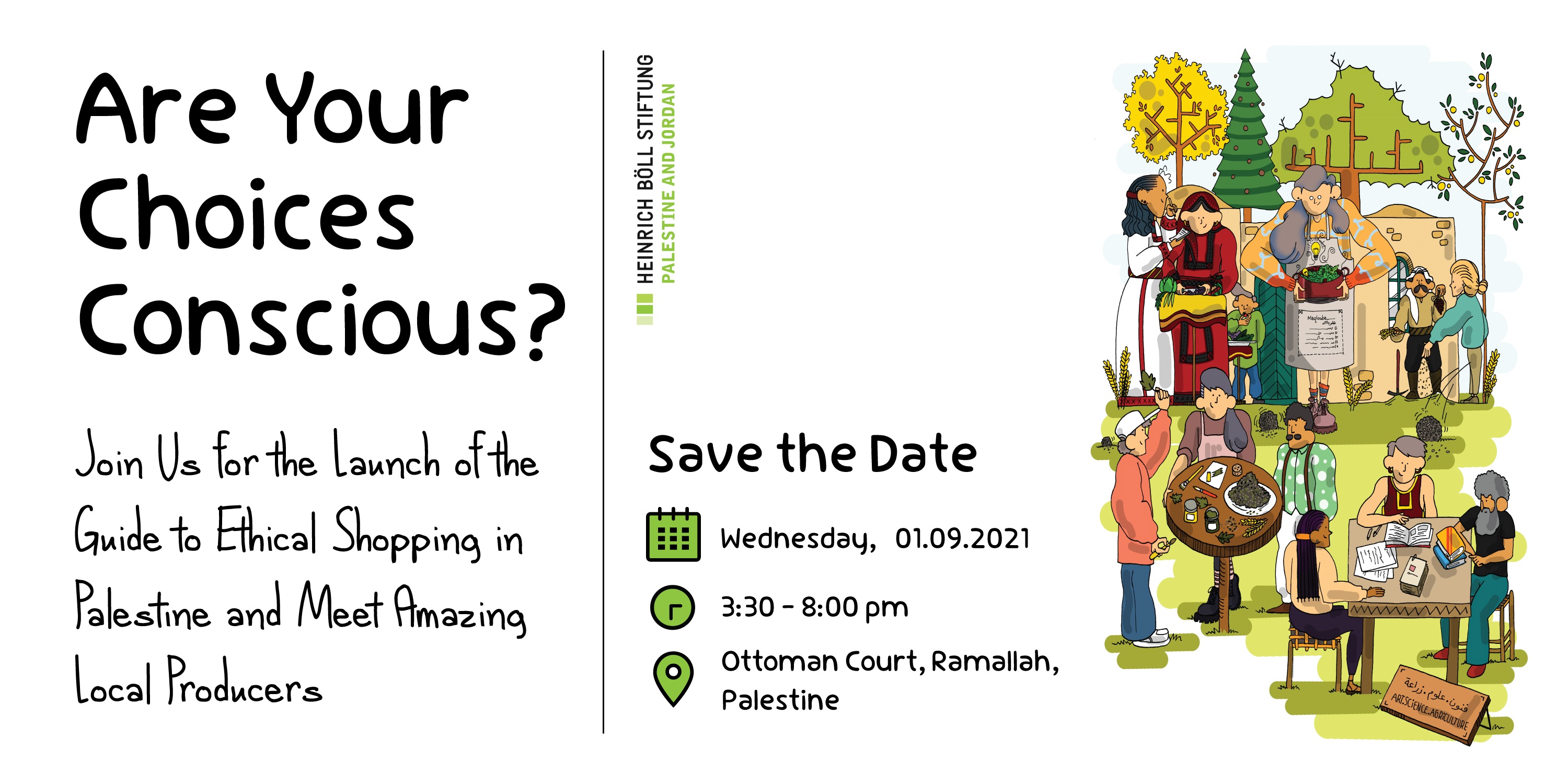 When: Wednesday, 01 September 2021
Where: Ottoman Court, Ramallah Al-Tahta (Old Town)
Time: 3:30 PM - 8:00 PM
Following the success of the first edition of the Conscious Choices Guidebook in 2015, the Heinrich Böll Foundation- Palestine and Jordan (Hbs) is glad to announce the realease of the second edition of this publication. In the launch event, we will be joined by over 25 local producers from across Palestine, who will set up booths to sell their products and tell their stories and experiences through discussion sessions. The sessions will address the growing agroecology and food soveregnty movement in Palestine and display a unique selection of traditional Palestinian handicrafts and discussing the means to foster them and protect them from being lost. The event will also include a musical performance by the Mazaj Ensemble and activities for children using art for awareness raising.
The Conscious Choices Guidebook, which was recently named the Book of the Month in This Week in Palestine, aims to help buyers in Palestine find the products they are looking for and at the same time strengthen existing societal networks and relationships. The guidebook introduces the concept of ethical shopping, helps guide readers become conscious buyers and making better-informed decisions regarding eating and living habits. It also provides readers with insights into the Palestinian economy and traditional production methods. The authors, Dr. Muna Dajani and Ms. Lina Isma'il, are two experienced Palestinian environmental activists who also wrote the first edition of the guidebook. In the second edition, they expanded the scope to include many new producers, initiatives, networks, and additional shops. Through over 130 producer profiles, opinion pieces, and beautiful illustrations, the guide introduces the concept of ethical shopping in Palestine and serves as an attempt to document a grassroots movement to reclaim Palestinian cultural heritage, encourage environmental and sustainable practices, and empower authentic models for resilience and steadfastness.
You may obtain a hardcopy of the guidebook by joining us in the lunch event or by contacting HBS' office (ps-info@ps.boell.org, Tel: 02-2961121) or download soft copy on the following link: https://ps.boell.org/en/node/1303
We look forward to your participation in the launch event!