Important Annoucement: For the internship period April - June 2023, applications will only be accepted from local candidates (Residing in Palestine)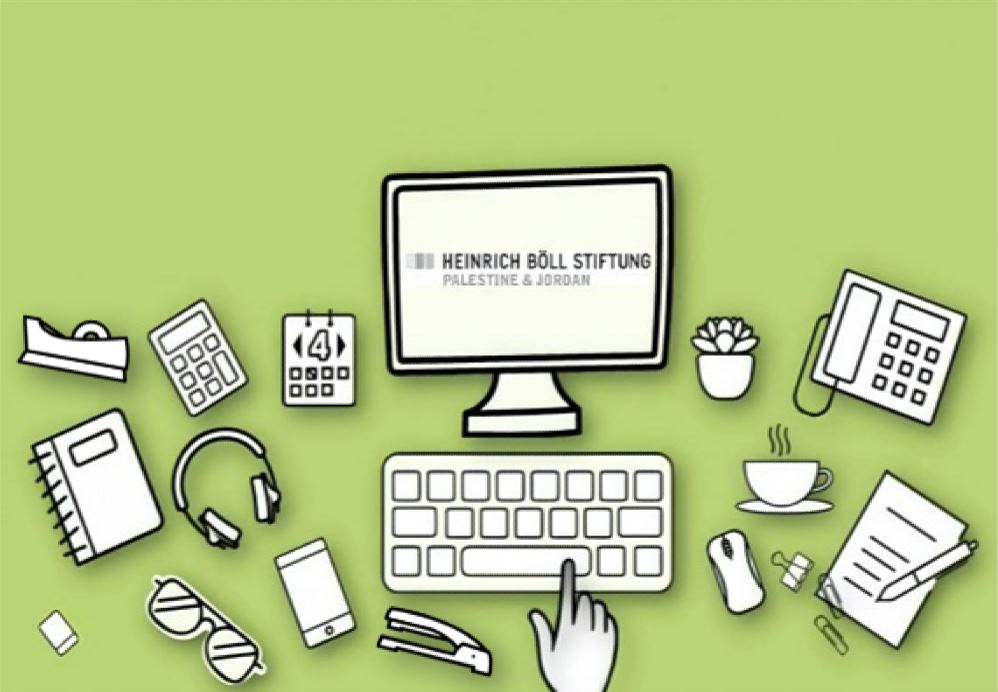 The Heinrich-Böll-Stiftung - Palestine & Jordan (hbs) offers three-month internships and welcomes applications from interested students and young researchers who have a special interest in the region with a focus on Palestine and Jordan and hbs' program areas (Democracy & Human Rights, Environmental Justice and Policy Analysis& International Relations). The internship program is intended to  provide an opportunity for students and young researchers to get hands-on practical experience in the fields of international development and political work. Interns will learn about hbs' activities, gain practical work and research experience. At the same time, interns are expected to contribute to hbs' activities with their knowledge, ideas and creativity.
IMPORTANT NOTE: Palestine is an interesting place to experience, yet it can be challenging at times. We strongly encourage applicants to familiarize themselves with the challenges of an extended stay in such an environment prior to submitting an application. Applicants should highlight any previous similar living experiences.
Who would be the best candidate for an internship with the Heinrich-Böll-Stiftung?
Advanced students with a study and research interest in one of hbs' program areas and a regional focus on the Middle East are the ideal candidates. This includes students of political, social and environmental sciences, economics, law, media and cultural and regional studies. Applicants should be proficient in English and German, while Arabic is a strong asset.
Kindly note that we do not offer internships to legal trainees (Rechtsreferendare) since we cannot fulfil the requirements for such an internship.
What types of documentation and information should be included in your application?
The application must consist of the following documents:
• Cover letter
• Curriculum Vitae (maximum 2 pages)
• Relevant certificates or reference letters, if available.
The cover letter should include background information about the applicant. More importantly, it must contain an explanation of the applicant's motivation for an internship with hbs. Please, do not forget to specify the exact time of your availability. Applications must be submitted in English.
The CV should be precise and up-to-date, providing an overview of the educational background, previous professional experience, social and political engagement, publications, etc.
What benefits do we offer?
Hbs offers interns to be part of an exciting and challenging work environment, and provides an opportunity to build a network of contacts with activists, representatives of the civil society, development workers, and artists in Palestine and Jordan. Interns will be in a position to gain first-hand information on development, social, and political issues from the hbs team and our partner organizations.
Unfortunately, hbs does not cover any travel or accommodation expenses, however we do provide interns with a small monthly remuneration during their internship. Hbs can also assist interns in their search for accommodation if needed.
When will you receive an answer?
Applications are welcome throughout the year. An acknowledgment of having received the application will be emailed to the applicant. Shortlisted applicants will be invited to an online interview that would be conducted in English.
Please note that our internship periods are as follows: January through March, April through June, July through September, and October through December. These periods are fixed. Thus, starting the internship later or finishing earlier is not possible and we only accept applicants who can take part in the entire internship period.
How to apply?
Send us an email to info@ps.boell.org with the subject "application for an internship". Make sure to attach the cover letter, CV, and any other supporting documents in a single PDF file. Applications shall not be addressed to any specific employee at hbs, unless otherwise specified in separate calls for applications.
We welcome applications for the year 2023.  
Important Update: For the time being, hbs does not offer online internships. All selected interns must be present in our office in Ramallah. However, entry into the country is subject to the applicable entry regulations. These can change quickly during the COVID-19 pandemic and we recommend that you familiarize yourself with the most recent entry regulations before applying.
If you choose to apply to intern at our office under the current pandemic, please consider the risk of the internship being cancelled without substitution due to possible travel restrictions.
- January through March 2023:  Closed. Applications will no longer be accepted. 
- April through June 2023:  Applications only accepted from local candidates (residing in Palestine), please apply by 15 February 2023.
- July through September 2023:  Open for applications, please apply by 15 March 2023
- October through December 2023:  Open for applications, please apply by 15 March 2023