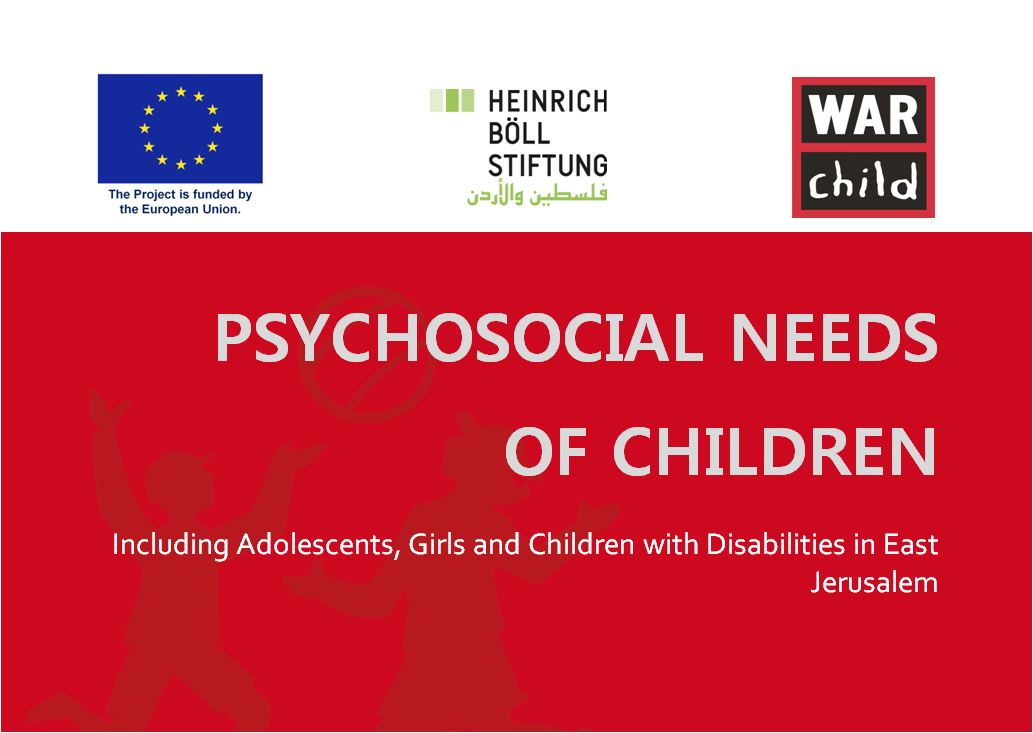 War Child Holland has published a need assessment on Psychosocial Needs of Children Including Adolescents, Girls and Children with Disabilities in East Jerusalem in January 2016. The assessment was prepared by Early childhood and Education Expert Ms. Alia Sha'ar.
The need assessment is part of "Advancing the Rights of Vulnerable Palestinian Women and Children in East Jerusalem- ENPI/2013/323-493" project funded by the European Union and implemented in partnership with the Heinrich-Böll-Stiftung. The assessment has been conducted over the period of September to December 2015 and targets the following neighborhoods: The Old City, Wadi Hilweh, Wad Qaddum al-Bustan, Jabal al-Mukabber, at-Tur, ath-Thori, Rasal-Amud, and al-Issawiya.
Interviews conducted with children, adolescents, and CBOs showed that there are many psychosocial problems caused by the political and social dilemmas around them. Harassments by Israeli police and settlers and their guards, as well as the repeated attacks, arrests, and the loss of safety cause psychological pressure on these children. As a result, many psychosocial needs were found, as a result of this study, including the need for protection and safe places, free self-expression, and the need to provide activities that release psychological stress. Other needs focused on raising awareness for children and their parents on the rights of children during detention and after detention, as well as the need for supportive education programs to ensure that children receive proper education after they have been released from arrest or detention, or during house arrests.
Results of the study also showed that there is a number of CBOs that provide services and programs for children. CBOs are based on the principle of voluntarism, and have the ability to communicate with the communities to which they provide services. CBOs enjoy a strong rapport with the community and are able to attract children and adolescents. However, they suffer from some challenges that affect the programs they offer in terms of quantity and quality. CBOs are not able to meet the growing needs of children, especially with the deteriorating political, social and economic situation in East Jerusalem. It was noted through visits to these CBOs that they suffer weak infrastructures, a lack of outdoor spaces, proper health facilities, and many of them need rehabilitation and maintenance.
Additionally, CBOs need to develop institutional capacities, without neglecting the voluntary nature and the ability to stay close to their communities. They need to build their capacity in strategic planning, and in financial management in terms of budgeting, management, the development of clear and smooth financial measures, as well as the development and empowerment of human resources. It is also required to develop mechanisms enabling them to raise funds and to train staff on monitoring and evaluation. As grassroots organizations, CBOs need to build institutional capacities to develop and improve the quality of services and interventions they provide. Despite the fact that some CBOs provide training for their employees to maintain a high quality level of specialized activities, there are many CBOs that lack the presence of such possibilities for development due to the lack of funding and external support.
Finally, the results of this study also showed that networking and coordination between institutions is not strong enough. Partnership remains within its narrow sense, often managed by stronger NGOs or CBOs that have a clear vision. CBOs have shown competitiveness and thus programs in many occasions are redundant instead of being complementary. Accordingly, there is a need to work on organizational development of CBOs on the one hand, and the development of the principles of networking on the other. CBOs also need to coordinate the exchange of knowledge and to share data in order to develop plans for networking based on the integration of their program.
To download the study, please CLICK on the link below:
War Child Holland_Psychosocial Needs of Children_Needs assessment