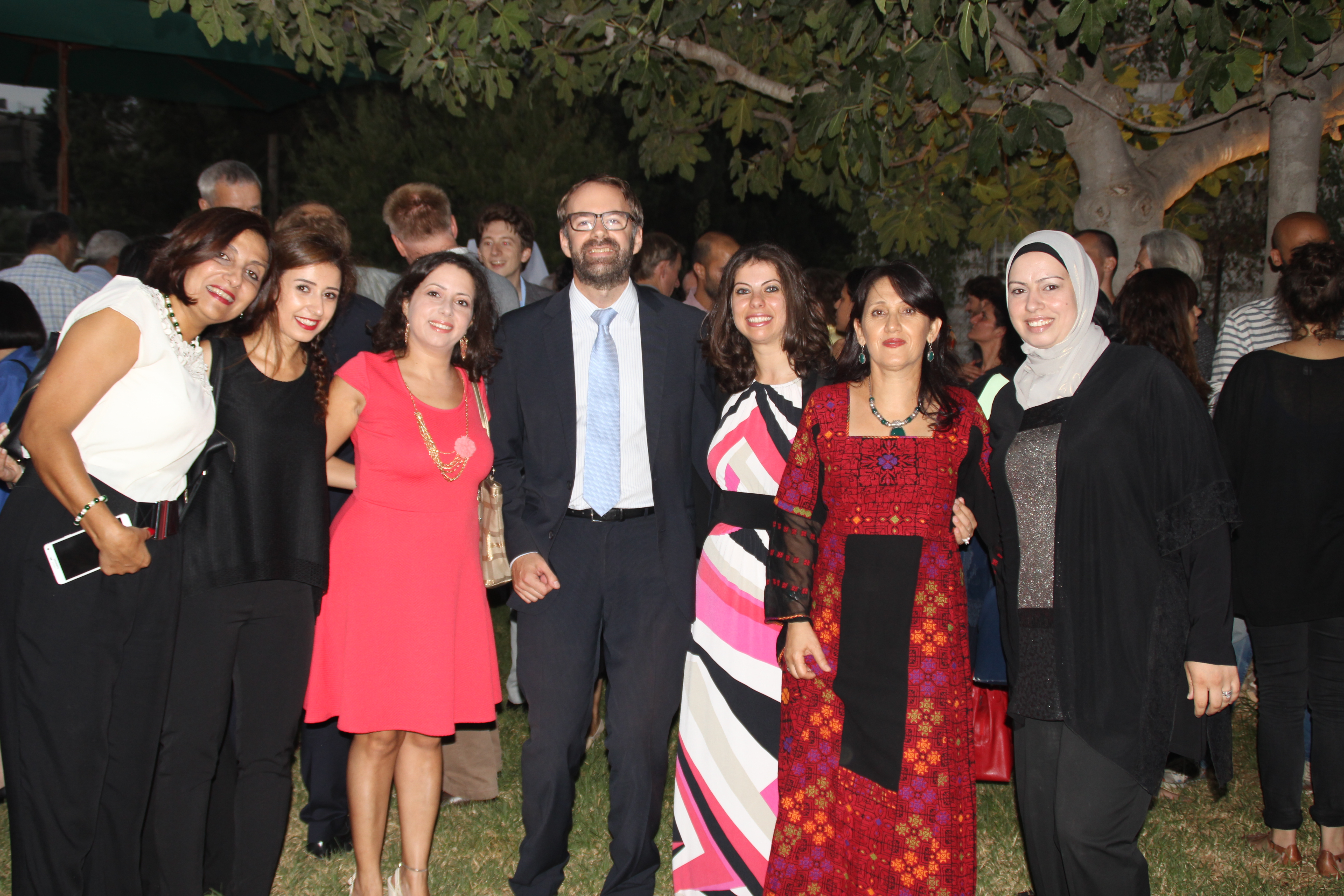 On 14 September 2015, Heinrich Böll Stiftung Ramallah welcomed official representatives, partners, colleagues and friends on the occasion of the farewell of the former director Dr. René Wildangel and the welcome of the new director Dr. Bettina Marx at Khalil Sakakini Cultural Center in Ramallah. The reception came within the framework of the visit of the Vice President of the German Parliament, Ms. Claudia Roth and the Former Federal Minister of Environment, Mr. Jürgen Trittin, and the opening of a photo exhibition on Gaza by Al Hoash (Palestinian Art Court).
The exhibition reflects on the difficult life of the Gaza Strip after the destructive 2014 war. The exhibition features images by Argentinean photographer Eduardo Soteras Jalil, which were taken during the recent war on Gaza and a project on an imaginary "Metro" system by Gazan artist Mohammad Abu Sal. Palestinian singer-songwriter Shadi Zaqtan accompanied the event with his music.
 Minister Abdullah Franji, Governor of Gaza, who also served for 12 years as the Palestinian representative to Germany, opened the floor with a warm welcome to German Green Party representatives Ms. Claudia Roth and Mr. Jürgen Trittin and expressed the gratefulness of the Palestinian government to the support of the Heinrich-Böll-Foundation and the Green Movement to the Palestinian rights. Mr. Franji also expressed his appreciation to the genuine support of Dr. René Wildangel to Palestine and the Palestinians' rights.
His speech was followed by key note speeches of Claudia Roth, Jürgen Trittin, and Wafa Abd Al Rahman, Director of hbs partner Filastiniyat. The speakers kindly expressed their respect and appreciation to Dr. Rene Wildangel, and his unique personality as a person, friend, director of hbs' Palestine/ Jordan office, team leader and member of the Green Movement. Dr. René Wildangel thanked the speakers for their warm speeches and expressed his happiness for working with hbs team in Palestine in addition to the Palestinian partners and representatives. More than 200 representatives of Palestinian civil society organizations, among them the partners and friends of hbs, attended the event.
Dr. René Wildangel also welcomed Dr. Bettina Marx as the new director of hbs Palestine/ Jordan. She expressed her gratitude for having the chance to come back to Palestine and work in her new capacity. Dr. Bettina Marx has a longstanding experience working on and reporting from the region and is a well known commentator on Israeli-Palestinian Affairs in Germany. In 2009, she published a book on Gaza in Germany.
The whole hbs team thanked Ms. Claudia Roth, Mr. Jürgen Trittin, Minister Abdullah Franji, the partners, colleagues and friends for coming and hbs partner Al Housh for the organization of the photo exhibition. They expressed their thankfulness and best wishes to Dr. René Wildangel and wished Dr. Bettina Marx a good start in Ramallah and a fruitful cooperation in the coming years.